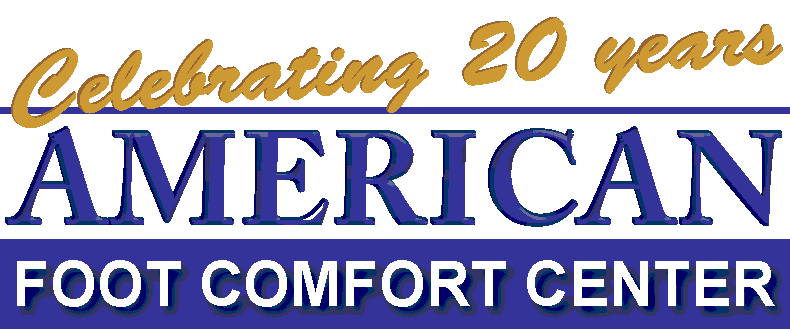 1670 Myrtle Avenue, Eureka, CA 95501 • (707) 445-8690
High Quality Shoes & Custom Orthotics
Welcome to the American Foot Comfort Center website. I am happy to announce 28+ years in business in Humboldt County. I am Robert P. Slyvester, owner and certified pedorthist for American Foot Comfort Center.
Why Come to American Foot Comfort?
American Foot Comfort Center specializes in providing comfortable shoes that will work with customized orthotics. For those of you who have a job requiring extensive periods of standing, I sell high quality, repairable and comfortable shoes which give your feet the arch support and other benefits necessary for everyday use.
Birkenstock
Drew Shoe
Finn Comfort
Haflinger
New Balance Athletic Shoes
Pedors
PW Minor
Red Wing Shoe
Sequoia
There are three keys to choosing quality footwear to keep your feet healthy.
Selecting comfortable shoes with solid construction and arch support.*
Only consider shoes made with quality materials.
Proper fit and sizing of your shoes is most important to ensure comfort and long-term wear of the shoe.
*Two important elements in the construction of shoes are a steel shank and a hard heel counter. The steel shanks provides good arch support. The hard heel counter provides additional support for those of us who walk towards the outside of our shoes.
If you are looking for nursing shoes or plan to use orthotics and want the most comfortable shoe, at American Foot Comfort you can find the shoes to fit your needs.
American Foot Comfort Center – not just a shoe store
As a certified pedorthist I have specialized training to modify footwear and employ supportive devices to address conditions which affect the feet and lower limbs. I am trained in the assessment of lower limb anatomy and biomechanics, and the appropriate use of corrective footwear – including shoes, shoe modifications, foot orthoses and other pedorthic devices. I build custom shoes, orthotic inserts and arch supports.
Come in and see the many new types of therapeutic socks in stock. Proper socks can make a huge difference. I have seamless, oversized, supportive, Cool-Max, and socks with teflon threading.
As well as supplying the most fashionable and comfortable shoes to accommodate them. Brands such as Birkenstock® are available at American Foot Comfort Center.
Providing Education About Foot Comfort & Health
At American Foot Comfort Center I strive to help you understand what can be done to improve the comfort and health of your feet.
How shoes are made and what makes a shoe fit properly.
Awareness of the manufacturer's latest styles in prescription footwear.
How shoes can be modified to accommodate your foot problems.
How to use shoe inserts to make your feet more comfortable.
Providing follow-up care should any problems arise with your shoes and orthotics.
The latest advances in the science of pedorthics.
I use a Digital CAD/CAM foot orthoses to produce the correct orthotic for you.
American Foot Comfort Center provides a wide variety of products and services to meet your needs.
Specialized Products
Extra-depth shoes
Athletic shoes
Walking shoes
Brace shoes
Woman's low-heeled dress shoes
Custom-molded boots/shoes/sandals
External shoe modifications
Customers come to American Foot Care Center because they know I am in the business of footcare as well as footwear. In the United States more than 70,000 lower extremity amputations take place each year. Many could be prevented with education about proper foot care.
As an added service to diabetic and neuropathic customers, American Foot Comfort Center is pleased to offer free annual foot screenings.
American Foot Comfort Center is a participant in the nationwide "Lower Extremity Amputation Prevention" (LEAP) program. A brief, free examination will identify acute foot problems and/or potential problems. Please call for an appointment today at (707) 445-8690.
Take an active part in your foot health

Get an Annual foot screening.
Learn about your condition.
Select appropriate footwear.
Perform a daily inspection of your feet.
Take appropriate action to manage your foot problems.
Suffering from problems due to diabetes? Check to see if your insurance company covers your extra-depth shoes along or customized shoe inserts.